Hunny Bunny is a collection of non-toxic, organic hair care products and accessories, mindfully made in California.

Each formula has roots in ancient Christian oracles that have been reformulated for out active, modern lifestyles.

Nature's healing ingredients like cannabis and castor oil, to promote hair health, blend with refreshing, feminine, botanical ingredients like honeysuckle and rose hydrosol for each signature formula.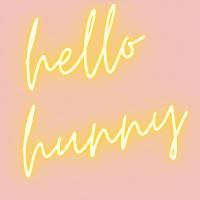 There are two undeniable truths in my life at this time. The love for my journey of self.

My Christian values have been a guidepost for my life, and while life has led to heart break over the recent years it has also led to healing.

There is one thing that has always remained; It is the truth of my worth and my relationship with the grace of God.

The vision of Hunny Bunny was born through this grace and love and I believe it was my path towards healing my heart.

The natural elements that exists in this world, combined with the joyfulness of a mother's love has brought me here today.

Now it's time to spill this love out into the world and be a part of your sweetest memories in life.

Formulated with essential oils that evokes physical and spiritual harmony
Nature's healing ingredients like cannabis and castor oil to promote hair health.
Each formula uses non-toxic botanical and certified organic ingredients that are sourced from around the world